Surgical Procedures and Nonsurgical Options for Men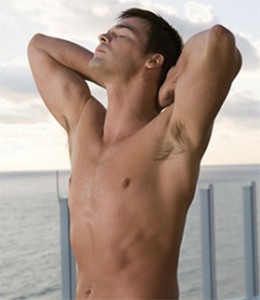 Here at Ballantyne Plastic Surgery we offer a wide range of surgical and nonsurgical procedures for our male clients. Due to aging, lifestyle and genetics men can develop what society has termed a "dad bod". If diet and exercise have not gotten you the results that you want, taking advantage of one of the procedures we offer, such as Liposuction, may be an option for you. Other procedures that continue to become more popular with men are: Rhinoplasty, Neck and Eye Lifts, and Facial Implants. Dr Liszka has years of experience performing these types of surgeries here in Charlotte. He would be happy to sit down with you to discuss all of your options.
Although men can take advantage of many of the cosmetic options that we offer to our female clients, gynecomastia surgery is specific to our male clients.
GYNECOMASTIA SURGERY
In medical terms, Gynecomastia means enlargement of the male breast. This condition is surprisingly more common than many would expect. It can affect only one breast or both. If you have lived with this condition for very long, you know it can be extremely embarrassing in situations where you have to remove your shirt. Activities that would normally be enjoyable, such as swimming, athletics and intimate moments with the opposite sex can become a source of stress and anxiety when you are living with gynecomastia.
Enlarged male breasts can be attributed to things such as cancer, liver function impairments, and certain drugs, including medication containing estrogen, anabolic steroids, marijuana and alcohol. Although heredity or unknown sources make up a large percentage of cases. Most of these cases can be resolved with gynecomastia surgery.
Men at any age can have breast reduction surgery as long as they are considered emotionally stable and physically healthy. Good candidates will have skin that is firm and elastic and that will easily reshape to the new contours of the body. For men that are overweight, a surgeon may first suggest the patient try diet and exercise before performing gynecomastia surgery.
Liposuction is typically performed with gynecomastia surgery or breast reduction to optimize the chest contour. On average, the gynecomastia procedure takes around two hours. It is performed under general anesthesia, at an outpatient facility. Gynecomastia surgery can be individualized to treat excess glandular tissue, fat, or skin excess.
Types of Gynecomastia Surgery
The most common type of gynecomastia occurs when there is a combination of extra breast tissue and extra fatty tissue. This can cause gynecomastia that is either mild or severe. Sometimes the extra tissue lies just underneath the nipple and sometimes it involves the whole breast. Glandular tissue just underneath the areola can cause the nipple to have a puffy look. This gives off the appearance of a cone-shaped breast, which is very different from a normal male breast where the nipple and areola lay flat against the chest.
Fatty gynecomastia is yet another variation, commonly seen in overweight men. The most appropriate means of remedying this type of gynecomastia is weight loss. When weight loss efforts prove ineffective, then it is time to seek a surgical solution such as liposuction.
Excessive glandular and/or fatty tissue may be accompanied by skin excess. Some men have "sagging" to their breasts. This may require removal of excess skin at the time of surgery. Your doctor will discuss this with you to minimize scarring but also to give you the look you desire.
Understanding the causes of gynecomastia and realizing that it is rather common can help men deal with this issue much more easily and become more comfortable with the idea of gynecomastia surgery.
Gynecomastia Surgery, Treatment & Recovery
Preparation For Gynecomastia Surgery
Quit smoking at least 2 to 3 weeks prior to surgery
Discontinue or begin any medications as instructed by your physician
Stop taking anti-inflammatory drugs, aspirin, vitamin E and vitamin C, and other herbal supplements two weeks prior to surgery
Arrange with a member of the family or a friend to drive you home after the procedure and assist you for the first 48 hours
Discontinue alcohol before surgery
Stop eating or drinking prior to surgery as instructed
On the day of surgery, wear loose fitting clothing and remove any piercings, accessories or contact lenses
Liposuction
alone may be all that is necessary if breast enlargement is due only to excess fatty tissue. More commonly, there is excess glandular and fatty tissue that requires excision of the gland combined with liposuction during gynecomastia treatment in general.
Although results are usually permanent, later extreme weight gain can cause a gynecomastia-like effect again. A flatter, firmer, more contoured chest is the benefit of this surgery, and will give you more self-confidence. Downtime is relatively short for this procedure, and you can usually return to work and your regular activities within one week. You will want to still avoid strenuous activities until your doctor gives the OK.
Gynecomastia Recovery
You will have some scarring around the nipple area following your gynecomastia surgery, but this will continue to become less visible and fade over time. After the procedure there will be some swelling, bruising, and you may experience a burning sensation.You will wear a pressure garment for around 6 weeks, which will promote healing.You will also need to avoid exposing the incision areas to sun for at least the first six months.
Another consideration is that you may experience lack of sensation or temporary numbness after your procedure. This can last up to a year, but usually returns to normal. Infrequent complications can include bleeding, fluid accumulation, post-operative asymmetry, skin damage, infection, bleeding, pigment changes or scarring. In the rare case of post-operative asymmetry, a second procedure may have to be performed to remove additional tissue.
PLASTIC SURGEON FOR MEN
Other procedures available to our male clientele include:
Liposuction
All Facial Surgeries