Dislcaimer: Individual Procedural Results May Varry From Person To Person
Fat Removal Surgery and Liposuction in Charlotte NC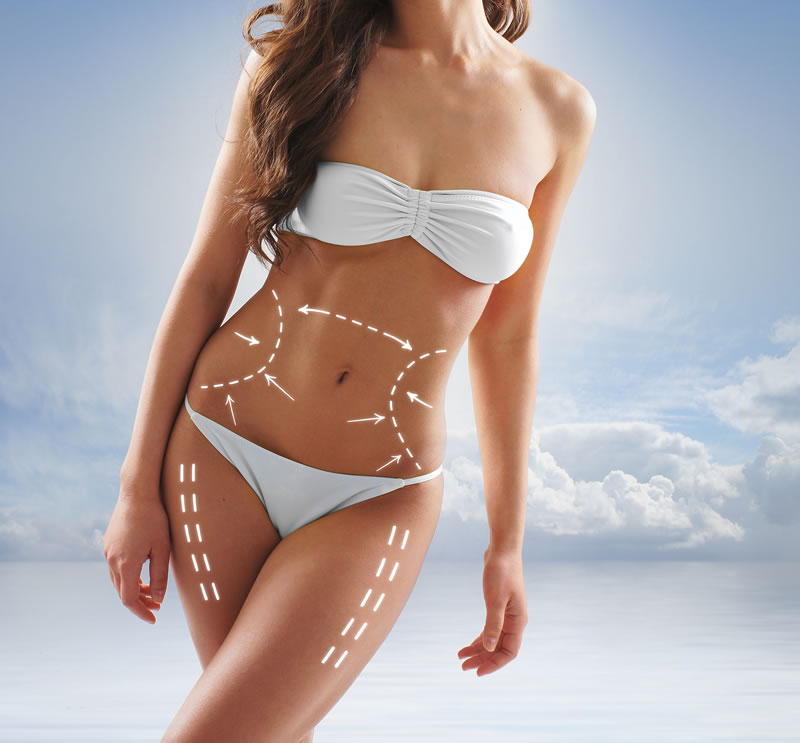 Liposuction is the most commonly performed body contour operation. Liposuction removes localized fat deposits and gives you a better-proportioned shape by slimming areas such as your abdomen, hips, back, thighs, lower legs, chest, arms, and neck. The practice of liposuction has dramatically improved in recent years and the procedure is now often called liposculpture, due to its fine-tuned precision. Dr. Liszka uses tumescent and power-assisted liposuction to allow you to achieve the best possible results in combination with the gentlest process available.
Liposuction Surgery Procedure
Liposuction is routinely done with general anesthesia but small areas may be treated under local anesthesia. Recovery time is dependent upon the areas treated and amount of fatty tissue removed, but is generally one week or less. Most patients feel comfortable returning to exercise within two weeks. Liposuction is frequently performed with other operations such as abdominoplasty or breast surgery.
Liposuction Surgery Recovery
With a healthy lifestyle including a balanced diet and exercise, most patients have long lasting results. However, this procedure does not treat cellulite, loose or saggy skin, and is not a treatment for obesity or weight loss. If you are a mother and have recently had a life changing experience of having a child then we may suggest looing into our Mommy Makeover services.
The degree of swelling is most dependent on the area treated.
Ideal Candidates
Ideal candidates generally have good skin quality and are in relatively decent shape.. There is no age group that is considered to be age appropriate for liposuction. Patients under 18 require a parent's consent since it is a form of surgery. It is also a good idea for candidates to have stabilized their weight prior to making the decision to have liposuction. Many ideal candidates have tried steady diet and exercise as a means for losing pesky, unwanted fat. However, such a routine does not work for everyone. Men who have experienced enlarged breasts due to excess fat alone can also treat that problem with liposuction. A combination of liposuction and surgical removal of excess breast tissue is necessary if both are present in excess.
A Safe Procedure
Liposuction is a form of cosmetic surgery that is considered to be extremely safe. As is the case with any surgery, there are risks of infection, allergic reactions, hematoma or scarring. However, liposuction is a common procedure in which complications are very minimal. Choosing an experienced cosmetic surgeon, like Dr. Liszka, can reduce the risk of these complications and give you the look you truly want for your body.
Steps To Take Before Liposuction
Once you have decided that liposuction is the right choice for you, there are certain steps every patient should take. Here's a checklist that will help you get ready for your liposuction procedure:
Stop taking blood thinners, aspirin and anti-inflammatories at least two weeks before your procedure.
Discontinue smoking at least two weeks before your procedure and plan to stop for at least one month afterward.
Stock your home with foods that are lighter on the stomach, such as jello, applesauce and prune juice. Laxatives and fiber-rich foods are also good to have on hand.
Arrange for someone to take you to and from the surgery center for your liposuction procedure.
Make sure your sleeping arrangements are comfortable. You can add extra pillows for support.
A Slimmer Waist Line
Once the liposuction procedure removes excess fat, it is gone for good as fat cells will not accumulate again in that area. However, significant weight gain will increase the fat content in all fat cells and may negate your results. The new contours that are achieved with liposuction will be there to stay as long as patients maintain a healthy lifestyle. As the swelling goes down, liposuction patients will also see improved results in the days and weeks following the procedure.
View Plastic Surgery Before and After Photos of Liposuction Procedures performed by Dr. Liszka.
Contact Ballantyne Plastic Surgery Today To Schedule Your Liposuction Consultation
Dr. Liszka is among the best plastic surgeons in the Charlotte NC and surrounding areas
All materials provided by ASAPS (American Society for Aesthetics Plastic Surgery).