Tummy Tuck Surgery with Ballantyne Plastic Surgery
Abdominoplasty Charlotte NC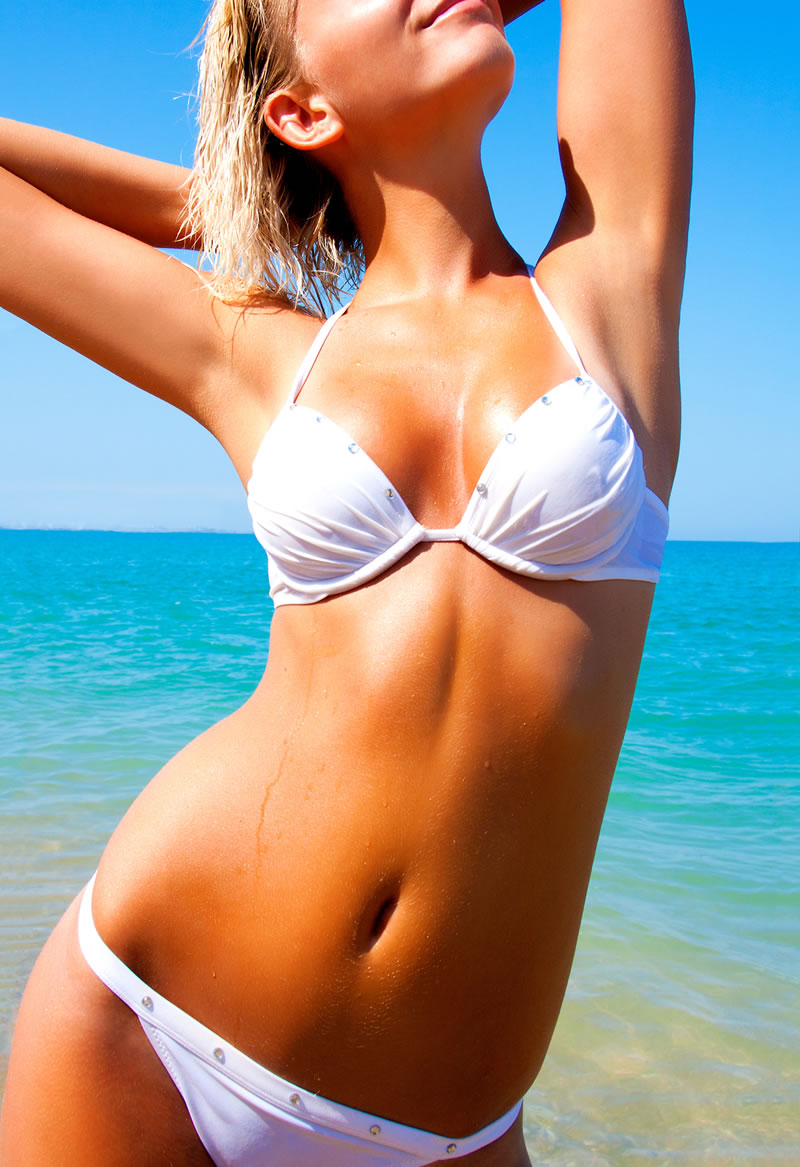 What is a Tummy Tuck?
An abdominoplasty or tummy tuck is a body contouring procedure that can remove extra skin and fat and tighten the underlying muscles. The goal is to achieve a flat and toned abdomen. Patients who benefit from a tummy tuck procedure are those who have had a pregnancy, significant weight fluctuations, prior surgery, or simply a loss of muscle tone due to aging or heredity.
Tummy Tuck Procedures
There are different types of abdominoplasty or tummy tuck procedures: the traditional tummy tuck, which addresses the entire abdomen, and the mini-tummy tuck, which addresses the abdominal contour from the belly button down. During your consultation, Dr. Liszka will advise you on which procedure will provide the tummy tuck results you desire. He will also review your medical history with you, conduct a physical exam of the areas to be treated, and discuss the expectations you have for your tummy tuck procedure. He will go over the benefits and risks with you, and listen to any concerns you may have.
Tummy Tuck Surgery Preparation
When planning to have a tummy tuck, it is important to think about preparation. You should focus on diet and exercise, and getting into a good and maintainable routine months before your scheduled surgery. If you smoke, begin the process of quitting. Also begin limiting your alcohol intake. Doing both of these things will promote better healing and lower the risk of infection after your tummy tuck surgery. Learning stress management skills is also helpful, as stress can affect your immune response.
When preparing for the time after your tummy tuck surgery, it is important to focus on support and simplicity. You will want to choose a support person who can bring you home after surgery and can remain with you for the time afterwards. Try to tie up any loose ends at work or at home, so that you can focus on relaxation and recovery once the tummy tuck surgery is complete. Stock up on any needed supplies, and prepare meals ahead of time that can be frozen for later.
Day of the surgery
Your tummy tuck will most likely be done in an outpatient surgical facility. You will be instructed to not eat anything for a set number of hours before surgery, as an empty stomach is required. Before your procedure a nurse will ask you a few pre-surgery questions and you will meet with an anesthetist. The tummy tuck procedure itself usually takes around 2 to 3 hours. This timeframe will be longer if you choose to have one of the other procedures we offer done the same day.
When your tummy tuck surgery has been completed, you will be taken to a recovery area. You may have small tubes/drains placed at the site of the incision that will drain excess fluid or blood. These may need to be left in place for a few days following surgery. You will be given a support garment, that you will continue to wear until your surgeon tells you otherwise. This is usually for about two weeks and then you can transition into a Spanx like garment. This garment provides support to your abdomen and promotes healing.
Tummy Tuck Recovery
This operation is done under general anesthesia and rarely requires an overnight stay. This procedure is frequently performed with other breast and body contour procedures. The recovery time for a tummy tuck is longer than liposuction because of tightening of the muscles. Most patients are able to return to work in 10 days to two weeks after receiving their tummy tuck procedure.
The First Week
As soon as a patient returns home, the prescription calls for rest and relaxation. Patients should rest in bed or a recliner with their feet elevated and keep their knees bent slightly. There should be no tension in the abdominal area as the wound needs time to heal. It is important to ambulate early to prevent blood clots. Activity should be limited but include walking to the bathroom or around the home. Depending on your medical condition, Dr.Liszka may prescribe a blood thinner to be taken for a week following your surgery.
To help reduce the swelling, it is recommended that patients wear a compression garment. This should be worn 24 hours a day throughout the first week. Your doctor will tell you when it is appropriate to shower, which is usually in the first three to five days. An alternative would be to take a sort of sponge bath with the help of someone else. The office will schedule an appointment to see your plastic surgeon towards the end of your first week of recovery.
The Second Week
You will start feeling a little more like yourself this second week. It's important for the patient to continue to slowly increase their activity under direction of their doctor. By this time you should be able to stand up completely straight. Keeping flexion at the waist for the first week sometimes causes back pain. This will improve as you slowly straighten up.
The Third Week
This marks the time for increased activity. Some patients start to do light exercise. Your plastic surgeon will advise you on what you can do and how frequently you can do it. A lot of patients can return to work, but some need additional time for recovery. Don't push yourself too much and listen to your body and your doctor's recommendations.
You won't have to wear your compression garment all the time. Wearing it half the day will now be sufficient as many patients will remove it before going to sleep.
The Fourth Week
Most everyone starts to feel "back to normal" by the fourth through sixth weeks after surgery. Your doctor will advise you on activity including what exercises are appropriate and what you should avoid. All the swelling is usually gone by the eighth week. Your doctor will also discuss scar management to minimize your postoperative scarring. Your final result will take around three months to achieve.
Tummy Tuck Benefits
While the tummy tuck procedure has obvious cosmetic benefits, there are other ways this can be of help to people. Below is a look at some of the additional benefits that may come with a tummy tuck. None of these results can be guaranteed.
Improvement in posture
Prevent recurrence of ventral hernia
Stress urinary incontinence reduction
Higher tolerance for exercise
Reduction of back pain
After a tummy tuck, managing weight loss also becomes an easier task. Research has shown that tummy tuck patients prove to have a lower rate of weight gain following the procedure. It is findings like these that have prompted some insurance companies to cover the cost of a tummy tuck.
Tummy Tuck Essentials
Once you complete your tummy tuck, there will be a short period of recovery. In order to be prepared for this time of healing, there are some items that will alleviate the process. For the bathroom, a shower stool and toilet seat raiser will both come in handy. A pillow in the shape of a U makes sleeping much easier, as it props you up in a stable position. Those who are side sleepers can utilize a foam wedge to help them through the night. A heating pad will also be a source of comfort and using a grab-it tool will prevent having to reach for things and bring discomfort to the stomach region.
Why A Tummy Tuck Makes Sense
Sometimes, no matter how hard you work at it, excess skin and stretched muscle fascia will just not get any better. Some people eat right and work out frequently, only to see that stubborn area of skin remain relatively the same. This can induce a very uncomfortable self-image. Some of it is even caused by genetics which makes removal a very difficult endeavor.
What To Expect After Your Tummy Tuck
An abdominoplasty or tummy tuck produces a scar that extends from one hip to the other and one around your belly button. The lower scar is positioned to lie below the underwear line so it is usually concealed and improves over time. Like liposuction, a tummy tuck will provide long-lasting results in combination with a healthy lifestyle including a balanced diet and exercise. It is not a weight loss or obesity operation and patients with dramatic weight fluctuations should wait until their weight stabilizes to have the operation.
Once your tummy tuck is finished, the recovery process has some specifics of its own. Stitches will eventually dissolve on their own. A fitted garment is recommended to be worn in order to help you heal correctly. There are also ways to outfit your home so that it meets your needs during postoperative care. Expect soreness for several weeks, but the rewards will last well beyond that short stretch of time. Dr. Liszka will make sure you are fully informed of how to recover from the procedure as well as the best ways to maintain your new look.
**performed by Dr. Liszka.